Save Time, Money and Hassle by Installing EZ Valves Under Pressure
Save Time, Money and Hassle by Installing EZ Valves Under Pressure
Planning to upgrade your water distribution system with the use of EZ Valves from Advanced Valve Technologies (AVT)? One of the major questions you'll have is how to install the valve. Let's learn more about the EZ Valve installation process and see how an inline insertion valve installed under pressure can save your water utility time and money. When you're ready to install, Team EJP offers full-service installations, or installer certification training to help you do the job yourself - and get it done right!
Less Disruption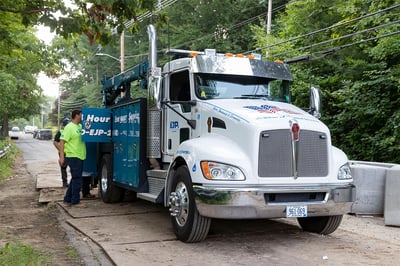 Here's what you DON'T have to do to install an EZ Valve: turn off the water. Leave it on at full pressure. The folks who live and work in the area you're installing the valve will thank you! Installing an EZ Valve requires a single excavation, further minimizing downtime and disruption caused by this installation.
Get your EZ Valve and the AVT EZ Valve Toolkit, then get ready for a fast, easy installation of this industry-leading inline insertion valve.
Certified Installers
Work with a certified installer to ensure your EZ Valve installation is completed just right. Get the benefit of AVT's commitment to education and training when you work with a certified installer. Another option? Get certified, yourself!
Watch this video of how Team EJP worked with AVT to certify EZ Valve installers while completing a multi-valve installation for the City of Westfield, MA.
Installation Made EZ
EJP's service team is ready to install your EZ Valve and help you save time and money. Get in touch today to talk about your options or book your installation!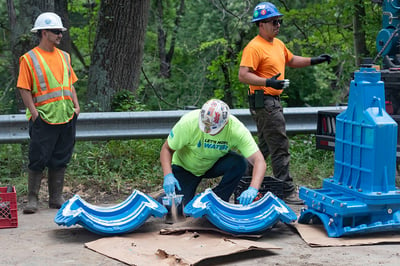 With minimal excavation - only the section of pipe where the valve will be placed - our service team can quickly access, clean, and prep the pipe for valve placement. The EZ Valve Toolkit has all the pieces needed to install the valve.
The water is still flowing - and Team EJP is about to install the EZ Valve without ever turning it off! The installation process is made simple and efficient with the EZ Valve Toolkit and our service crew's professional training and expertise.
Use the EZ Valve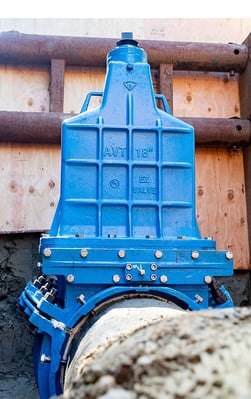 Now that the EZ Valve is installed - you're immediately ready to control water flow if needed to conduct planned maintenance or respond to an emergency.
To shut off the water flow when needed, fully lower the resilient wedge into place to temporarily detain water. Then easily reopen the valve and be on your way!
Explore More Great Waterworks Solutions
At EJP, we're proud to create premium waterworks hand tools and industry leading solutions, like our service line puller kits, a game-changer for trenchless service line replacement.
With ergonomics and durability in mind, our tools are designed to outlast and outperform the competition. Learn more about our products and innovations at our website and keep your waterworks utility well supplied with all the tools they need to get the job done right every time.