Imagine your crew is looking for a break in a water line or a water meter in a busy downtown area. They could spend significant amounts of time trying to locate these locations, trying to figure out where those areas should be. But what if your crew could simply look up the exact location, go directly to it and get to work immediately? That's the convenience and productivity that Trimble GIS options can bring to your water utility. Here are some more details to help get you started.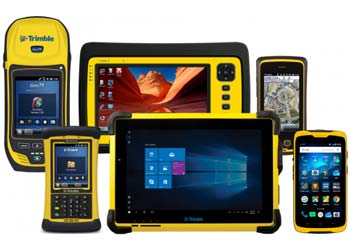 A reputation for industry-leading accuracy and reliability. Though Trimble serves a wide range of industries, their dedication to excellence and exceptional results in mapping technology shows through clearly in the quality and accuracy of their products and services.
Compatibility across a wide range of related products and services. As a digitized company, Trimble's products and services can be integrated to work with a number of products and services. Digitization focuses on improving the options for compatibility between a wide range of hardware and software options. Trimble makes it possible to work through their business partners or use their own product development teams. Don't lose the assets you already have when they may be able to be made compatible with Trimble's systems.
Save field time locating assets. How much time do your crews waste every day, week, month and year because they're trying to locate a particular asset in the field? When you use Trimble GIS products that deliver superior accuracy in locating those assets, you're providing your crews with the tools they need to reduce the area being searched for that asset to a bare minimum. Instead of wasting time looking for assets in the field, your crew could stay busy and more productive by getting the job done.
Custom solutions available through Esri and Trimble product development. If you're not sure how to tie all the parts of your system together, that's okay. Trimble has partnered with Esri to allow both company's product development teams to work hand in hand in developing the solutions you need to keep your water utility operating smoothly and effectively. Instead of having to micro-manage the process of developing these customized solutions, you can simply depend on this partnership to provide you with the options you need with a minimum of intervention from your department.
Empowers organizations with high-quality data to make the best decisions. Exactly where is the break in your 50-year-old water main? Are there going to be issues with the water meters installed a few years back when the new paving operations go into construction phases? When you know exactly where your assets or issues that impact their viability are located, you can quickly act to make good decisions for your water utility.
By implementing Trimble GIS options into your water utility's daily operations, you can help cut down on wasted time spent searching for a particular location. But what if you're not quite sure exactly which GIS options will work best for your organization? Download the Mapping and GIS product guide below or contact one of our experienced associates today.