Water line chlorination and de-chlorination is a part of relatively common operations, but can still be a pain to work into the schedule. Fortunately, you have alternatives that still have your lines treated properly and in a timely manner. Team EJP has put together a great program to help you manage your line chlorination and de-chlorination process. Here are the details.
Line Chlorination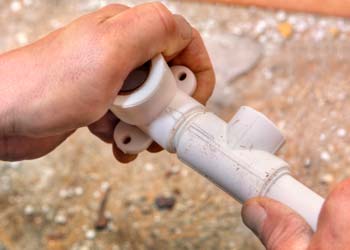 Our line chlorination service provides everything needed to get the job done, including the manpower, equipment and materials. When our team arrives to chlorinate your line, they come with the pump, tools, chlorine and other necessary equipment to chlorinate your mains. Our team members are experienced and insured, and are ready to complete your chlorination to your specifications. If necessary, we can also provide you with certified chlorination results for yourself as well as any contractors and engineers.
To prepare for chlorination, you'll need to ensure the pipeline is filled with water with all air purged from the system. We'll need a ¾ - 1" pump connection at the main, and all fittings, valves, hydrants, caps and plugs must be restrained with the system isolated. When you set up your appointment, we'll need to know the size and length of the pipeline that needs to be chlorinated, whether there are valves available in the lines to provide isolation and whether there are any services installed off of the pipeline. We recommend having a pressure test done prior to having chlorination performed. This is because if repairs are required to reach an acceptable pressure test, you won't have to worry about a second chlorination being needed due to leaks.
Line De-Chlorination
When our Service Tech finishes the chlorination process and the water lines have been left chlorinated for 24 hours, the line then needs to be de-chlorinated. After de-chlorination, a water sample is obtained and tested to ensure a contamination-free water line, providing safe and clean drinking water to the public. Our process meets or exceeds AWWA standards.
When we provide services for de-chlorination, we provide the dechlorinator, a neutralizing agent and all needed tools and equipment that are required to de-chlorinate your water mains. As with chlorination, we provide the experienced personnel and insurance needed to perform the de-chlorination to your specifications. We also neutralize the discharge of chlorine so that there is a minimal impact on the environment. We do this by using a graduated neutralizing agent injection.
To de-chlorinate your lines, we'll need you to provide a minimum 2" iron pipe thread connection where you want the system discharged, preferably at a proper area where washout will not occur. As with chlorination, your system will need to be isolated and restrained, and we'll need to know your pipeline information. However, we'll also need to know your final residual reading requirements to meet the project specifications.
Now, even when your water utility is struggling to keep up with daily work, you can still ensure that your water lines are being properly chlorinated and de-chlorinated. If you'd like more information about Team EJP's approach to water line chlorination and de-chlorination, have any questions or would like to schedule a service, please feel free to contact us today to get started.