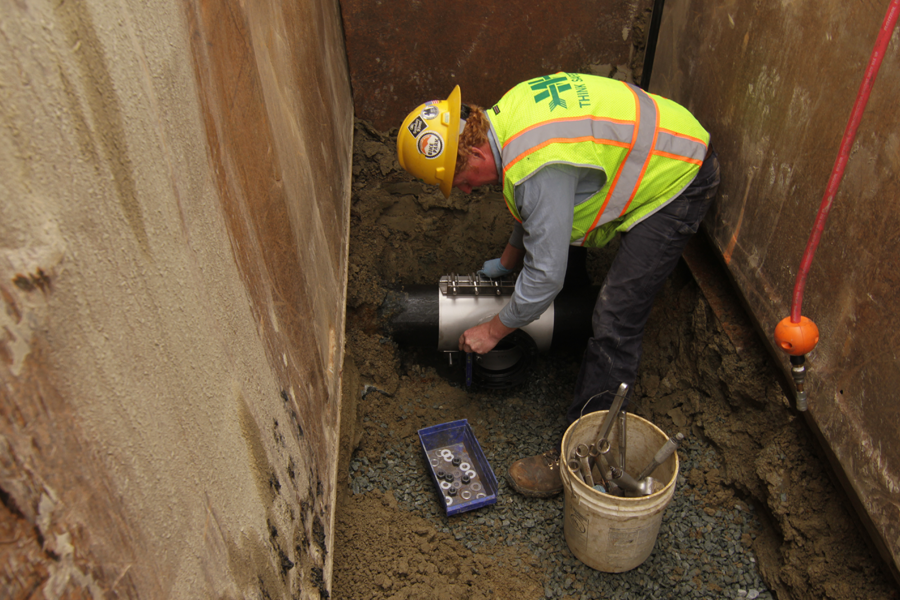 When you need to tap into an existing water main, you have two options - shut down the system to insert the new tap or use a live tapping technique, also called hot tapping, to tap into the system while it is still under pressure. Many municipalities stick with the old way to tap in, shutting down the system , because the municipality is not familiar with live tapping techniques.
The downfall to shutting the system down is, whenever a pipe is dewatered the Safe Drinking Water Act requires that the water must be tested for bacteria once turned on again. Also, a boil order must be activated for all customers that recieve water through that service. With live tapping, none of these items are required.
In this piece, we'll take a solid look at live tapping - what it is, how it's done and the benefits and drawbacks of this type of tapping technique.
Live tapping involves placing a tapping fitting onto a water main, in addition to a gate or ball valve that will control the water. After the fitting and valve are in place, the main is then tapped, with the valve being closed before the drill is detached. It's a fairly straightforward process that gives you the convenience of not shutting down service to a number of clients while still being able to tap into the main during normal operational hours. Here's a more detailed look at the installation process:
To start, a tapping fitting is put in place on the water main and secured solidly.
Next, a gate or ball valve is installed and left wide open.
On the other side of the valve, a tapping machine is attached, including the cutting head and watertight housing.
The tapping machine is then started and the cutting head is advanced to cut through the main.
Because the tapping machine, valve and fitting are all securely fitted, there is virtually no loss of water pressure.
Once the cutting head has finished the cut, it is withdrawn into the tapping machine and the valve is closed fully.
The tapping machine is then removed from the valve, leaving a functional valve and tap in place with no loss of service.
By using a live tapping system to cut into your water mains, you can avoid the problem of unhappy customers because service and pressure are virtually unimpacted by the addition of a new tap to the system. The use of wires on the cutting head helps retain the piece of the main that has been cut out, assuring that you don't end up with debris in the system. The main drawback is if you are working on older, corroded pipes that will not hold up well to having the tap fitting attached in the first place, referred to as burn through, but most pipes that are corroded that badly will not do well with any type of additional fittings put into place and should be replaced. Hot tap fittings can be more costly than regular fittings that are cut into the main, but are often more cost-effective in terms of what a shutdown would cost while putting regular fittings into place. Live tapping is also an option for a number of other pipeline tapping needs, including a wide range of gasses and fluids used in both municipal and industrial complexes, providing additional usage for a tapping machine.
Now that you have a better handle on this dynamic tapping technique, it's time to investigate incorporating it into your bank of options when it's needed. At Team EJP, we're always happy to help with any questions or concerns you have about new products or techniques. Contact us today for more information on live tapping or any other topic of interest to waterworks companies and organizations.
---