Get a Better Pressure Test with Alpha's Restrained End Cap
Get a Better Pressure Test with Alpha's Restrained End Cap
When you're running new water lines, nothing can seem as time consuming as trying to get a successful pressure test. The cap takes forever to get into place, and then quite often pops loose before you've had a chance to get the entire line up to the pressure needed to test for leaks or weak points. Fortunately, the developers at Alpha are always creating better products for the water utility industry, and their restrained end cap can help make your pressure testing process easier and faster with superior results. Here's how:
The Alpha Restrained End Cap provides greater flexibility than other end caps on the market. It can be used for everything from PVC to oversize cast iron pipe. On HDPE pipe, it requires no pipe stiffener, lowering the number of parts needed to get the job done. The cast components are created from strong ductile iron, able to withstand pressures up to 350 PSI.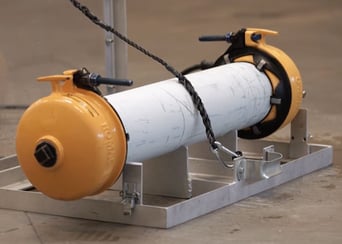 It's designed using a one-piece stab fit that can be installed in two minutes or less. How? Reinforced nylon ramp runners make it easy to slide the pipe into position. Unlike ordinary end caps, the Alpha joint uses a single 304 stainless steel bolt and nut pair that are e-coated and have anti-galling protection in place. The fastener is positioned at the top of the cap for easy access. An easy-to-grab handle makes it easier to position and hold in place, helping avoid smashed toes or fingers that can happen when caps fall during installation.
But don't take our word for it - here's a video to help you visualize the process and end result:
Stainless steel (304L) draw hooks are integrated into the gasket, allowing for a strong, tight seal around the pipe. The individual grippers, created from ductile iron, help compensate for out of round pipes and angular deflection of up to four degrees. It also does a great job of evenly distributing the load around the pipe. As water pressure increases, the gasket and grippers tighten their hold on the pipe. Best of all, Alpha's products are made in the U.S.A., allowing you to tell your water customers that your utility is supporting American industry.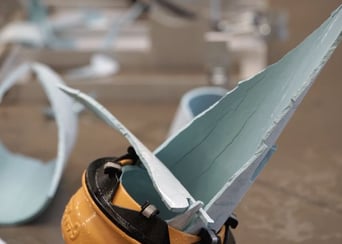 But what about applications outside of pressure testing? It's easy to use for blow-off or to flush lines to remove contaminants. The exceptional properties of this restrained end cap allow you to quickly install it at the end of a pipe that has been broken, providing that a clean joint is created at the beginning of the break. If you have a multi-stage project, the restrained end cap gives you a great option to cap the line temporarily before going on to the next phase of the project. It can even be used to create a strong permanent seal at the end of the line, without spending a lot of time monkeying around with a cheaper end cap.
By using Alpha's restrained end cap for your pressure testing needs, you can quickly go from one line to the next, making the entire process faster and allowing you to get your crews on to their next projects in a more timely manner. If you need help deciding if the Alpha Restrained End Cap is a good choice for your testing situation or for a permanent line end, please feel free to contact the experts at Team EJP today for more information. At Team EJP, our job is helping you get the job done faster, better and more effectively.