Emergency Services Evolve for Long-Term Changes in the Water Industry
Emergency Services Evolve for Long-Term Changes in the Water Industry
If a water pipe breaks today anywhere in Team EJP's nine state service area, immediate help is available 24 hours per day, 365 days per year. Today the company employees a staff of full-time service technicians, and all operate dedicated service trucks equipped with the tools and supplies to deal with a wide variety of service needs.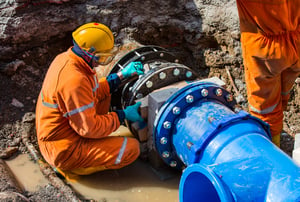 The service department's focus extends far beyond pipe break response. Valve insertion, leak locating and detection, hydrant and valve maintenance and water main chlorinating and dechlorinating highlight just a few of the solutions available. When pipe tapping is required to add a new service to an existing pipeline, Team EJP can provide safe tapping without interruption of service to other customers.
The evolution of Team EJP emergency services capabilities began in 1957. Team EJP Chief Executive Officer Peter Prescott remembers it well. At the time he was a high school student, but already was working part-time for the company his father, Everett J. Prescott, founded in Gardiner, Maine two years earlier.
"My father bought a used tapping machine from the City of Augusta, Maine in 1957, and we started doing pipe taps that summer," Mr. Prescott remembers. "We would transport the machine in either our International Harvester pickup truck or in my Ford convertible."
This early movement toward providing waterworks industry service was unprecedented. During those years water utilities found ways to take care of their own service needs. Larger utilities used their own equipment to handle emergency and non-emergency service needs. Smaller utilities relied upon other water departments to help out in times of need.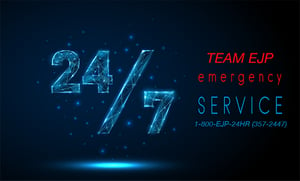 Taking things a step further, Team EJP decided that it was important to offer its emergency services 24 hours per day, 365 days per year. "Of course emergencies rarely happen during normal business hours," Peter Prescott remembers, "so my father decided to offer around the clock response, every day of the year." Today, more than 63 years later, that promise is at the core of Team EJP's commitment to immediate response.
The idea for around the clock response was borrowed from a well-known Maine outdoor outfitting company, L. L. Bean. Six years earlier, in 1951, L. L. Bean had expanded its store hours in Freeport, Maine to around the clock, every day.
In 1957 the emergency service call line was also the same phone line that serviced Team EJP's single store location in Gardiner, Maine. During those early years the Prescott family's residence was in the same building as the store. "There was one line and three extensions," Peter Prescott recalls, "two were in the store, and the third extension was in our residence."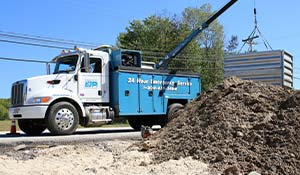 In those early years, growth was slow and gradual. By 1959 service work was covered by two company trucks. However, it was not until the 1970's that Team EJP introduced its first truck dedicated full-time to the service operation.
Like changes in any major industry, it took a long time for clients to get comfortable with the concept of service work being done by their waterworks industry materials supplier. Customers felt like they were being asked to give up work that was rightly theirs. "Utilities in the early years were self- sufficient and they valued their independence," adds Mr. Prescott.
This perception changed over time. Larger utilities began to realize that maintaining equipment for service work, both for emergencies and non-emergencies, was simply not cost effective. Over an extended period of time they came to understand the real value of having highly qualified service assistance when it was required. Many large utilities sold off their equipment, and, at the same time, freed up their personnel for other important work in their service areas.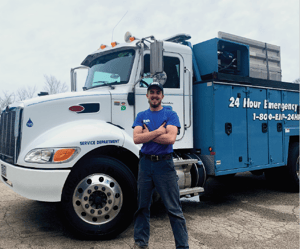 By the 1970's, Team EJP began to significantly expand its base from its original location in Maine. Late in that decade, the company added its first stores in New Hampshire and Vermont. Locations were added in Massachusetts, Connecticut and Indiana by the 1980's, and during the 1990's, new company operations had opened in Rhode Island, New York and Ohio. This expansion was coupled with expansion of the company's emergency service capabilities in its entire nine-state territory.
Team EJP's evolution as an industry leader in emergency services continues to this day. Clients requiring immediate assistance only need to make a quick phone call to get the help they need. Every call will be answered, no matter what day it is, day or night. Dedicated emergency service numbers are in place at 25 Team EJP locations throughout its nine-state service area.
While company Chief Executive Officer Peter Prescott cannot guarantee he will answer from his residence as he did in 1957, he can promise that each and every call will be handled immediately, and will be treated with the greatest of urgency. Contact Team EJP today with any questions related to all our services!