A recent study by the Utah State University's Buried Structures Library has recently published a comprehensive study on the rate of breakage in water mains. The conclusions were rather alarming and may point to issues in water main breakage rates including an increase of 40% over the past six years. Here's a quick overview to help get you started.

The study is a secondary report following Dr. Steven Folkman's 2012 report. Surveying over 200,000 miles of installed water mains across over 300 water utilities, representing a strong increase in data over the 2012 report and recording 23,803 pipe failures. It's one of the largest studies conducted on water main breakage, providing us with a glimpse into the ground at the condition that your water lines are in, making the repair and replacement decisions much easier for water utilities.
But what does the report have to say? It's found that since the first report, breakage rates have increased by 27%, with cast iron increasing 46% and asbestos cement by 43%, representing an alarming increase in breakage rates. These two pipe classes are responsible for the largest spike in pipe failures, with these older materials reaching the end of their lifespans. There's some discussion about how these failure rates could be expected to increase significantly over time, requiring water utilities to accelerate their pipe replacement schedules. If this doesn't happen, it could lead to significantly larger leakage problems or water contamination from outside sources.
The report found that on average, 0.8% of installed water mains are replaced across the country every year, the equivalent of a 125-year pipe replacement schedule. To keep up with anticipated 100 or 60-year replacement schedules, this rate needs to increase between a quarter and double. Compared to iron, steel and cement based pipes, PVC has continued to remain the pipe material that has the lowest breakage rate. Soil issues can also contribute to the pipe breakage rate. Corrosive soil conditions lead to main breaks, especially in cast and ductile iron pipes. Approximately 75% of all utilities ran into issues with corrosive soil conditions, causing 20 times higher breakage rate for cast iron and 10 times higher breakage rate for ductile iron when compared to pipes laid in low corrosive soils.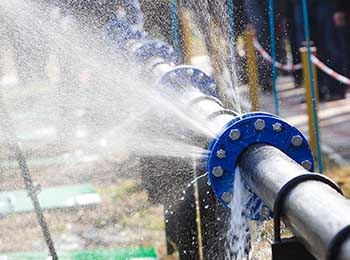 It found that 85% of water mains are under 12" in diameter. There has been a 6% increase in water mains over 50 years old from 22% to 26% since the first report was presented, but the water mains that are past their useful lifespan has doubled, going from 8% to 16%, representing a strong risk of breakage. At the same time, cast iron pipes represent the majority of pipe material in the inventory, with a whopping 82% of all pipes exceeding 50 years of age. The study also noted an 8 PSI decrease in average water supply pressure to 69 PSI, significantly below most water main operating pressure maximums, which helped conserve water, extending the pipe lifespan and reducing the instance of leaks and breaks.
If you have water mains that may fail based on this study, it's important to have the right materials on hand to quickly make effective repairs. If you need help finding the right materials for your water utility, Team EJP is here to help. Please feel free to contact us today with any questions, for more information or to place an order.