When it comes to draining driveways or outdoor areas, trench drain provides an excellent option to remove excess water from an area. However, it's one option that many of our customers aren't aware of. Here's a quick overview of the technology, where it's best applied and the installation process that's involved in adding it to your system.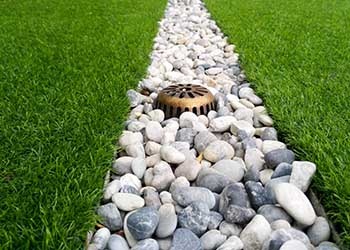 In its simplest form, a trench drain provides an elongated surface for water to drain from a specific area, such as a driveway, beneath an un-guttered roof edge, sidewalk or similar area where water tends to collect. It's essentially a gutter that is set into the ground. It works well to help protect areas where erosion may be an issue by slowing down the flowing water and diverting it to another area. It can also be used with sump pump systems to remove water from low-lying areas or diverted into a rain garden.
Trench drains are created from a wide range of materials, including plastic, galvanized steel and cast iron grates, polymer and HDPE trenches and a diverse number of decorative options to match virtually any setting or situation. The type that you select will strongly be determined by its end use. A trench drain on a roadway will require a much stronger grate and sub-structure than one that diverts water away from fragile ecosystems in a park. It can be installed in a number of different environments, including turf grass, concrete, asphalt, gravel, and others. If it's being placed on a gravel drive, you'll want to set the bottom of the drain into concrete to prevent cracking and damage to the drain as it is pushed into the gravel by passing traffic.
To install a trench drain, you'll need to create a trench for the drain to fit into. This may involve cutting and removing concrete, asphalt or other hard surfaces, digging a trench into turf or gravel and then placing the drainage elements. Generally speaking, if a large amount of water will need to be diverted, you'll want a minimum of a 4" drain to remove the water so that enough water is removed to prevent flooding in the area. Prior to beginning those operations, you'll want to ensure that any surrounding areas that may be impacted are protected, such as placing plastic sheathing in front of a homeowner's garage to prevent an influx of removed materials onto their property.
Once the trench is dug, you can place any pieces needed to connect to a storm sewer, waterway or similar area for the removal of drainage water. After this drainage system is in place, you can connect it to and install the trench drain, and then install any grates that need to be placed. Following this, you'll need to clean up or repair any damage to the road surface, turf grass or other surface material to ensure a smooth transition from the surface to the drain.
Using a trench drain to remove water from particular areas is a very effective tool in overall flooding control. If you're not sure whether a trench drain is the right solution for one of your problem areas, Team EJP is always ready to help. Please feel free to contact our experienced associates today for more information, with any questions or to put together an order for your drainage needs.