When you've got a new project coming up, how much time do you waste trying to trace your supply lines or mains? This type of work can make a project significantly more expensive than it needs to be while ignoring this type of work can create a dangerous situation when heavy equipment accidentally severs gas, water, power or communications lines. Fortunately, there's an easier way to find your pipes without wasting a lot of precious time: adding tracer wire to your pipes as you lay them in place.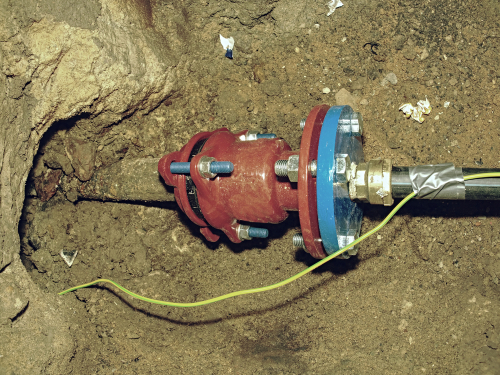 Also referred to as locating or locator wire, tracer wire is used to help find pipes, wire, and other utilities once they've been buried. After the pipe has been placed, adding a tracer line along its length to be buried next to the supply line or pipe provides a beacon when the pipe is searched for down the road. Using a wire tracer, which is an above-ground piece of equipment that can locate the non-energized wire, the exact location of the tracer wire, and thereby the pipe, is determined.
One of the things we like about Copper Head Industries' High Strength Tracer Wire is that it doesn't require the wire to be energized. This can be a benefit when you're trying to dig out a broken water main and don't want to send electricity into the area that could shock your crew. It's a common material used in the utility industry, including fiber optics line, sewer, and water lines, gas lines and other utility conduits, and can also be used to help determine the location in directional drilling, irrigation, and sprinkler system lines.
Because the wire is located very accurately, your work crews can get much closer to the line using heavy equipment, keeping the painstaking work of removing soil around the lines to a bare minimum. This also allows you to greatly reduce the disturbance and destruction that takes place on-site, making it much easier to make repairs and get everything back to normal once you're done.
Image Source: Copperhead Wire
At Team EJP, we specifically like Copperhead Industries' High Strength Tracer Wire because of some of its specific qualities that set it apart from the rest of the crowd. Unlike solid-copper options in the field, the fully-annealed high-carbon steel core of the High Strength Tracer Wire provides a stronger overall wire, preventing it from being accidentally severed while field operations are going on. In fact, it's got twice the tensile strength of solid copper while providing up to 15% more stretch to account for ground settling and movement.
Surrounded by high-quality, conductive and corrosion-resistant copper, this steel provides a strong core for years of outstanding performance, a feature which makes it a great option for open-cut applications. The copper cladding provides the reliability and endurance of copper, while the high-density polyethylene coating adds another layer of protection against the underground environment.
Instead of wasting a lot of time trying to track down your pipes during your next project, why not make the job easier with Copperhead Industries High Strength Tracer Wire? If you have questions, concerns or need more details about how well this high-quality material will work for your next project, the experienced professionals at Team EJP are ready to help. Please feel free to contact us today to get started.