When you have culverts that are beginning to fail but don't have the time or resources to reroute traffic, dig up the existing culvert and replace it, what are your options? One option you may not have considered are PPF services. By slip lining your existing culvert, you can get the best of both worlds, as your culvert is rehabilitated without the extra expense and headache of digging up and replacing the old one. Here are some details on how the process works:
Across the country, traditional corrugated metal culverts are beginning to fail at a truly alarming rate. Whether it is from corrosion, faulty installation, cracking or washouts, these failures are causing a variety of dangerous situations, such as sink holes, road collapse or flooding. How do you repair or replace the culvert without creating bigger problems or setting your department up for more repairs down the road?
Until recently, the only solution that would meet standards was to replace the culvert, often involving ripping up roadways, rerouting traffic and putting motorists and your workers in danger. But now there's a better way that still meets AASHTO standard M326 - the only standard that allows you to reline an existing culvert. By slip lining an existing culvert, you can reinforce it while at the same time providing better flow rates and also reestablishing the culverts integrity by filling any voids or washouts in and around the existing culvert.
What is Slip Lining? Why would you choose it?
Slip Lining is a trenchless method used to build a new channel of lesser diameter within an existing channel. The process is completed by inserting a new, smaller piece of pipe into the larger piece.
It is an easy, low-tech approach to repairing your culverts. You won't require a bunch of fancy equipment you'll only use rarely and which will take up room in your workshop or warehouse the rest of the time. The repair will typically have a hundred year or more service life, so you won't need to make the same expensive repairs just a few years down the road. It's available in a wide range of sizes to meet nearly every need, from 8" to 63" in diameter round, with oval options available as well. It's also available in lengths from 2' to 50', making it much easier to get pieces down into an area with limited access without extensive excavation work. You can also use slip lining technology for culvert extensions and road widening projects, as well as for direct burial applications and drainage projects. It also works well for sewer repairs that have limited access and dam levee situations.
How Slip Lining Helps
When a slip lining system is added, you can avoid all the mess of ripping up an old culvert. Instead, a lightweight, flexible and durableHDPE plastic liner is inserted into the existing culvert. This allows approximately 95% of culvert repairs and replacements to take place off the roadway, improving your workers' safety. The individual lengths can be fusion welded, threaded or snapped together, eliminating the need to have a long distance to stretch out the replacement liner pipe. The joint system used provides a watertight seal to prevent additional washouts from taking place around the repair.
Grouting Process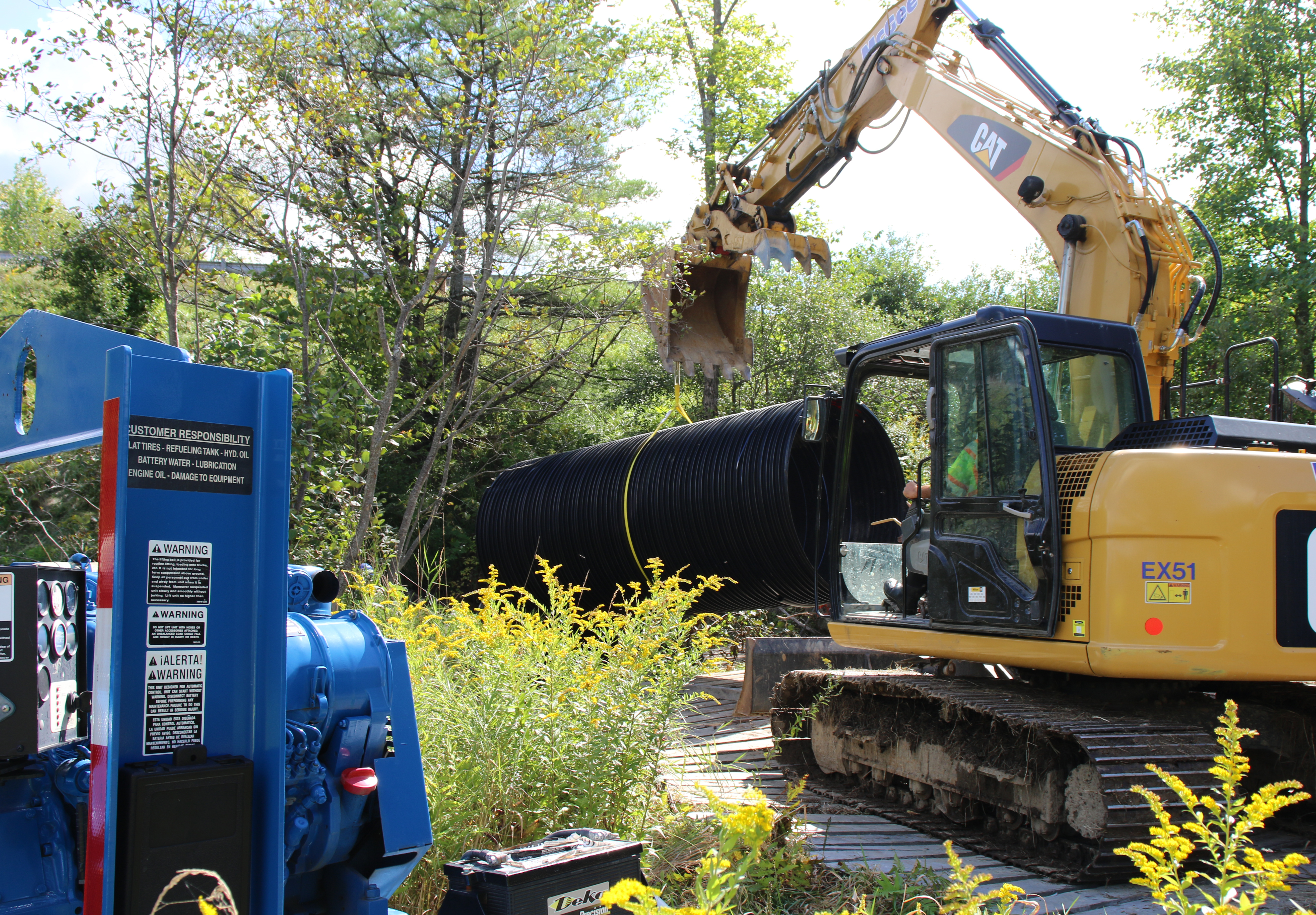 Once the HDPE liner pipe is installed, a cellular grout is pumped into the annulus between the new HDPE pipe and the host pipe. This cellular grout is cement slurry that fills any existing voids or washouts in or around the existing culvert. The grout secures the liner pipe in place and encases the existing metal pipe. A few reasons why this is done is to cause the host pipe and the new pipe to act as composites; Increasing resistance to hydrostatic loads and the ring stiffness of the pipe. Another is to just restrain the carrier pipe. Choosing the right application of grout is necessary to safeguard that the repair job performs the tasks needing to be done.
The Alternative - Road Collapse
By rehabilitating your culverts with the slip lining process, you can quickly and effectively repair your culverts without the trouble of digging and replacing the old one. If you need more details about how the slip lining process works or need additional information to make a decision, please click the button below to contact us!