New York's Adirondack Park protects 9,375 square miles of streams, forests and woodlands in the northeast corner of the state. In Hamilton County, a badly eroded embankment began depositing sediment on both an adjacent roadway and directly into Hamilton County's Elbow Creek a natural trout habitat.
Hamilton County, one of only two New York counties entirely within the borders of Adirondack Park, reached out Team EJP's Doug McCluskey in search of a solution. Doug, who is the company's Assistant Erosion Control and Geoproduct Manager, put together a plan of action, which was soon implemented by Hamilton County's Soil and Water Conservation District.
ProGanics from Profile Products
The first step in the process was to rebuild the eroding 60 degree sloped embankment. Wood debris and rocks were removed, and the slope was rebuilt and graded. Creating a clean seedbed is essential to the revegetation process. As the sandy and nutrient deprived soils on the slope had contributed to the earlier slope erosion, it was important to enrich the soils. To address this problem, ProGranics, an engineering soil media manufactured by Profile Products, was combined with additives and seed and sprayed on the slope.
C125BN (Coconut Biodegradable Rolled Erosion Control Blanket) from North American Green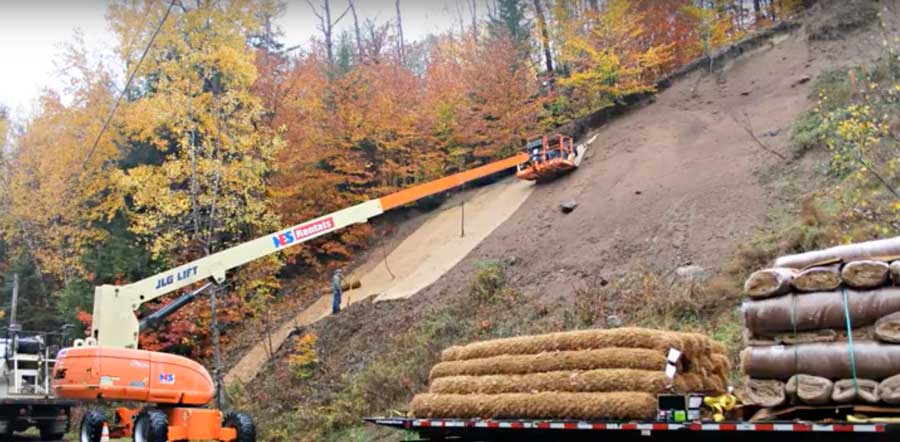 After this seed and nutrient application, the slope was protected by the installation of a 100% organic erosion control blanket manufactured by North American Green. The product chosen, North American Green C125BN, is made up of an evenly distributed coconut fiber layer, protected by a jute yarn netting structure on both sides. This blanket is to degrade slowly while providing erosion protection over a two-year period. Proper installation is very important, and the blankets were anchored and pinned in accordance with the manufacturer's written installation instructions.
Coir Logs from New England Geotextiles Company Inc.
Lastly rows of coconut fiber logs, also known as coir fiber logs, were installed horizontally and in intervals along the slope face to reduce flow velocity down the long face of the sloping area. The coconut fiber logs are designed to gradually degrade over a five to seven-year span, continuing to perform while vegetated root systems develop.
Erosion prevention and control often needs to be a multi-faceted approach to develop a customized solution. The approaches used at Elbow Creek were decided upon after careful review of the unique factors at that site. The professionals at Team EJP are available anytime for no obligation onsite visits to assist you in selecting the right solutions for your project.