4 Benefits of Trenchless Technology for Sewer Line Repair
4 Benefits of Trenchless Technology for Sewer Line Repair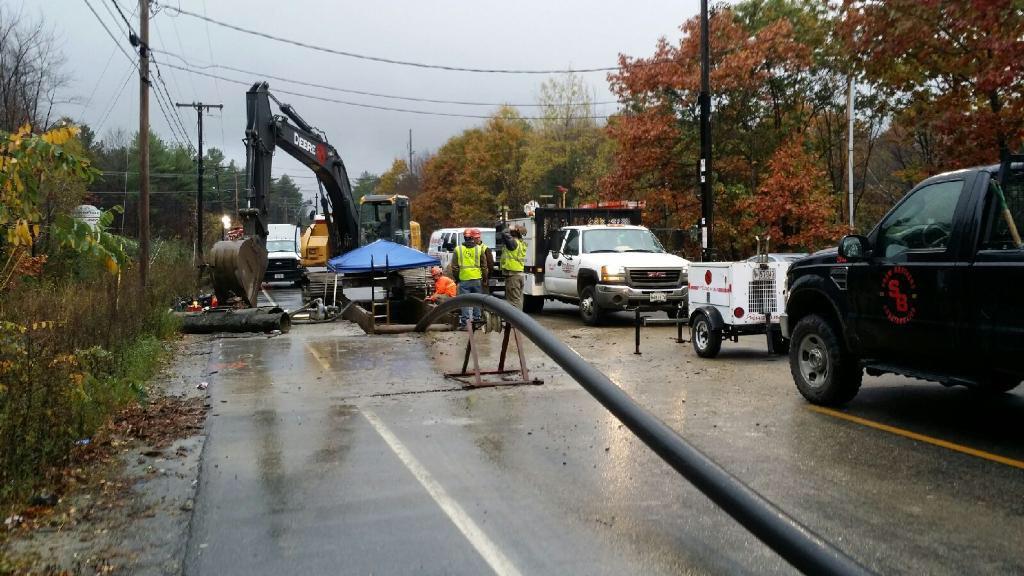 When you need your sewer repaired, the worst thing you can do is wait. Blockages or breaks in a sewer line are clearly urgent plumbing problems. These breaks or blockages can cause drains to back up, which allows basements and foundations to flood. Trenchless Technology offers a faster, less expensive and environmentally friendly method for replacing and repairing sewer lines.
Traditional Sewer Line Repair - A Time Consuming Project
As pipes age, cracking and blockages cause them to fall apart. While trees are beautiful and beneficial to our environment, the stress caused by a tree's roots can also destroy the pipes that lie beneath them. Previously, the problems caused by damaged pipes were corrected by digging up and repairing or replacing each section of pipe that was in need of attention. That was before trenchless technology became available.
Before trenchless technology, our team of technicians would spend hours just digging the trench along the pipe that needed to be replaced or repaired. After completing the repair or replacing the pipe, our technicians would then spend several more hours reburying the pipe. Completing a sewer line repair this way requires us to use numerous technicians and expensive heavy equipment. Sadly, it also destroys landscaping and lawns.
Trenchless Technology - An Innovative Technique
Trenchless technology has eliminated the need for heavy equipment and the use of numerous technicians; thus, reducing the costs to our customers. Now, our technician only needs to dig a couple small holes to complete the task. Micro-video cameras allow personnel to work remotely from these small holes in the ground.
4 Benefits of Trenchless Technology for Sewer Line Repair
1. Saves Time - More Convenient
Sewer line repair using the traditional digging method takes substantially longer than it does with the innovative trenchless technology. Less time means that the inconveniences associated with sewer line repairs are short-lived. Customers do not have to haul water manually or relocate for an extended period of time.
2. Saves Money
Completing sewer line repairs using trenchless technology is less expensive because structural modification (i.e., taking out walls) is not required. No digging equipment is necessary because two small holes are all that needs to be dug. Minimal digging also means reduced clean up costs
With less manual labor, fewer personnel are needed to complete the job. In addition, the sewer line repair is completed faster, which reduces the number of hours our technicians work on a single project.
3. Less Intrusive than Traditional Sewer Line Repair
Trenchless technology means less digging, which minimizes the damage to surrounding areas. With trenchless technology, there are no landscaping or large portions of lawn to replace.
4. An Environmentally Friendly Alternative to the Traditional Repair Method
Unlike the traditional digging method, trenchless technology allows for the utilization of specialized equipment and techniques that can replace or repair sewer line pipes without causing ecological damage. This method eliminates the need to dig up the earth and affect large areas of plants. A couple small holes are all the digging that needs to be done with trenchless technology.
Why Team EJP is Unique
Not all companies invest in the tools and have the experienced technicians necessary to perform trenchless sewer line repair and replacement. We offer this service because at Team EJP, we strive to stay ahead of the rest. Our mission is "to provide customers and vendors quality service and innovative technology through the creative talents and abilities of our employees."
Photo credit: Matt Timberlake / Ted Berry Company / CC BY-SA
Sources:
http://www.diamondcertified.org/report/superior-plumbing-drain-cleaning-services/article/consider-the-benefits-of-a-trenchless-sewer-line-replacement
http://www.resolverooter.com/blog/tag/trenchless-technology/
http://www.pipetechusa.com/trenchless-sewer-repair/
http://plumbingcircle.com/plumbing-resource/the-large-pros-and-small-cons-of-using-trenchless-sewer-repair-in-your-brentwood-home/
http://budgetsewer.com/trenchless-sewer-repair/
http://tunnelvision.com.au/the-benefits-of-trenchless-sewer-repair/