Pressure. When you're in the water utility industry, it can be your friend or your enemy - often both at the same time. A customer might complain that pressure is too low and another might complain that pressure is too high. How do you prove what the issue really is? How do you determine the actual fluctuations in your system over time? These issues can cause you to have to spend a lot of time trying to determine the problem, and if it's an intermittent issue, how do you determine what's really happening to cause it? With Trimble's Telog HPR-32iA pressure sensor system. Here are more details on this highly adaptable GIS tool from Trimble.
Situations in which the Telog pressure monitoring system is effective
The Telog pressure monitoring system works well in several situations, making it a solid, adaptable tool that will serve your water utility well in a range of changing circumstances and environments. Because it has so many different uses, it's very easy to justify the expense to interested parties, making it a smart purchase and an excellent tool to have on hand for your water utility's projects down the road.
Investigating pressure issue complaints by customers
Testing for pressure loss
Monitoring system pressure
Monitoring system water hammer
Hydraulic model calibration


Pressure Monitoring and Management With The
Telog HPR-32iA
Features and benefits of the Telog pressure monitoring system
Because Trimble has such extensive experience in designing its equipment, there are several features and benefits designed into the Telog pressure monitoring system to make it more effective in the field. The design helps ensure accurate readings, data storage and transmission, ease of use, durable structure and a long useable lifespan, providing years of dependable service in the field. The Telog pressure monitoring system can be programmed by the end user, making it easy to adapt the technology to your water utility's specific needs, even as they change across the years.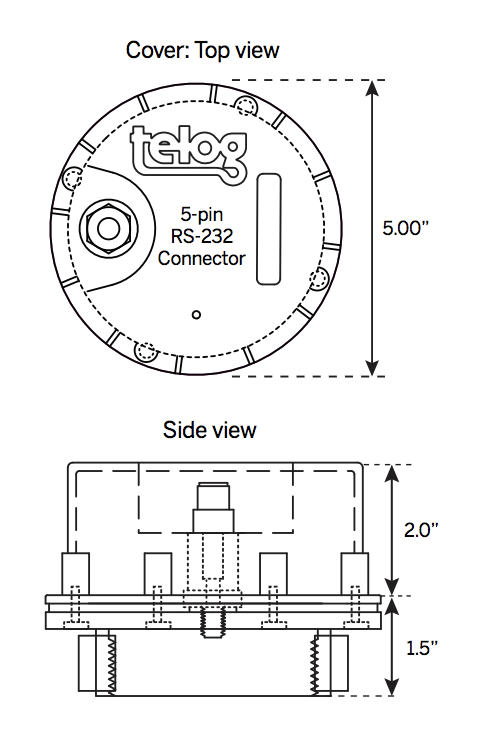 GIS technology allows for remote monitoring, including scheduled data dumps
Testing rates programmable by the end user up to 256 readings per second
Internal pressure transducer records a wide range of measurements
Based on your programmed criteria, maximum, minimum and average values are recorded
Disabling impulse monitoring allows for 90 days of recording maximum, minimum and high pressure every 5 minutes
Easily attaches to a 2 1/2" fire hydrant nozzle and stores data for regular transmission
Adapters available to connect onto a garden hose
Stores data on up to 125 events and up to 42,000 data points
Uses cellular technology for wireless transmission of data from remote locations
Low-power LTE/Cat 1 cellular communication allows instant updates and alarms
Designed for low-power usage on a replaceable BP-4 lithium-based battery pack
Optional security cover prevents vandalism damage
The system is compatible with all Trimble software apps
By incorporating the Telog HPR-32iA pressure monitor into your system, you can monitor water pressure for a wide period of time over a wide range of conditions and reasons. But what if you're not sure whether you should invest in this quality equipment from Trimble? Team EJP has your back and is standing by to help you make the right decision for your water utility's needs. Please feel free to contact us today with any questions, for further information or to get a quote on Trimble's Telog HPR-32iA pressure monitoring system.